maui whale watching
MAUI WHALE SEASON DEC 15 – MAY 15
What's the Best Way to Whale Watch?
There are many ways to enjoy the incredible surface acrobatics from Humpback Whales. Maui Whale Watch Tours has been assembled to help direct you to the best Maui tours for whale watching after reviewing all of the options.
MOST RECENT MAUI WHALE VIDEO
KOKUA
The concept of Kokua means pitching in to help, carried out with kindness and aloha. Find out what threatens Pacific humpback whales and how you can help in protecting them. Thanks to the hard work of whale conservationists, Humpback whale numbers are increasing!
ABOUT HUMPBACK WHALES
Though Humpbacks are not the largest whales in the world, they can grow up to 50 feet long, weighing approximately 80,000 pounds, making them the 5th largest of the whales. Humpbacks have the longest pectoral fins of all whales making them easily recognizable. The massive head of the humpback whale has two blowholes, on top, side by side for breathing. Humpback whales are mammals and breathe air at the surface. Some other noticeable characteristics of the humpback are its tubercles. These round bumps are found on the top of the head and lower jaw with at least one wire-like hair protruding from each one. These hairs are thought to help them sense in a way we do not totally understand but is thought they may allow the whale to detect movement in nearby waters. Humpback whales have been researched by qualified experts for many years, and still many of their characteristics are mysteries. An example of the elusive and unknown behavior of the humpback whale can be illustrated by what we know of birth. To this day, the birth of a newborn calf has never been documented or filmed.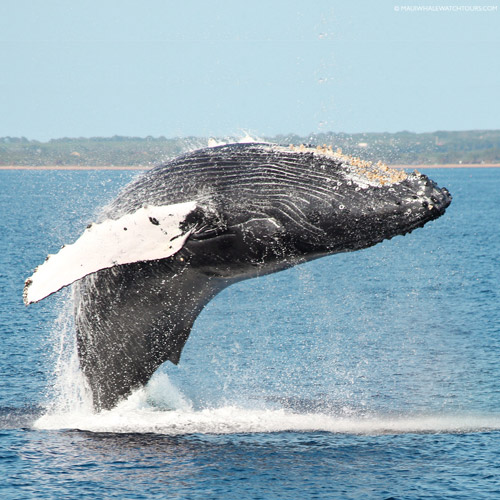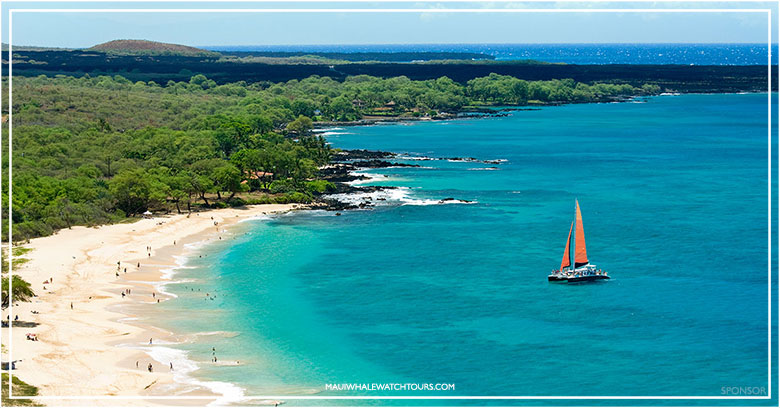 Keep crowds down and enjoy an intimate whale watch on the Kai Kanani out of South Maui. Departing from Maluaka Beach in Makena, your also at the closest departure point for Molokini Crater.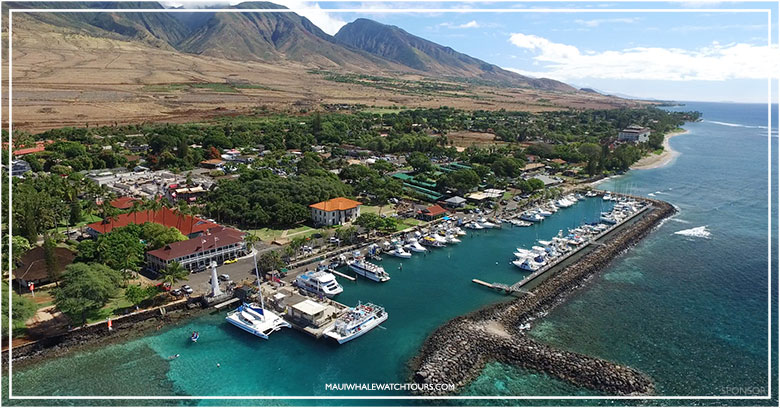 Pacific Whale has over 30 years of experience navigating Hawaiian waters. Enjoy their expertise in finding whales around our island. They also have boats in both Lahaina and Maalaea.
HUMPBACK FEEDING
In the summer, our Humpback whales live and feed in the North Pacific where schools of small fish and krill are plentiful. During the winter, they migrate south to warm Maui waters in order to breed and mate. In our waters, the temperature isn't suitable for krill and the small schooling fish of the humback diet like herring, mackerel, and capelin to live.
In order to survive the long trip south, as well as the time spent in Hawaiian waters without food, Humpbacks eat enough to build a thick layer of blubber, storing enough energy to last them through the duration. It is possible that these huge mammals feed while they travel when food is available, though their primary source of food comes from small schooling fish and krill found in cold Alaskan waters.
SINGING WHALES
One of the many interesting behaviors of Humpback whales is their song. Every year, when our whales come back to Maui, we hear their incredible songs underwater. A typical song lasts from 10-20 minutes and can be repeated continuously for hours at a time. Only the makes sing and only in their breeding grounds. Every singing male of the North Pacific strain sings the same song. The song slowly changes in small ways throughout the season. As the changes occur, each crooner will sing the new and improved version. Scientists are uncertain what each song means, but speculation would point to communication while mating and fighting for a mate. From recent studies, we now know that it is the male humpback that responds to a singer and not the female as was previously believed.
WHALE MIGRATION
Every year our humpback whales come back "home" to Hawaiian Waters from the cold, food-rich waters of Alaska. Some head along the coast to Mexico, but ours prefer the safe waters nestled between the islands that make up Maui County. Yes, this is their home because they're born here!
FREE 300 PAGE MAUI EBOOK
We've put together around 300 pages of helpful information about the Valley Isle. Everything from places to stay, ways to save money, things to do, restaurant guide and more!
Frequently Asked Questions
Learn About Maui Whale Watching!
What's the best time of year to see whales around Maui?
Official Maui whale season is from December 15th to May 15th each year. These are the set dates because many boats will guarantee whale sightings during this time. However, whales can often be seen well before and after. This year we saw our first whales in October (though few.) Some tour boats will take you out whale watching before and after those dates, but they won't guarantee whale sightings. If you're eager to see whales outside of "Maui Whale Season", go for a whale watch, dinner
cruise or a snorkel trip, but make sure you enjoy it for more than the possibility of seeing humpback whales. That being said, if you're planning your visit specifically for the whales, February is the money month for Maui whale watching. We call it "whale soup" because you can barely look in any direction without seeing spouts!
What's the best time of day to see whales in Maui?
We've had amazing Maui whale watching experiences both in the morning and afternoon.  Most people prefer mornings because the wind usually isn't high (though our wind can come at anytime) which breaks up the water more.  Some people believe the bumpy waters often found in the afternoon entice whales to breach and do other cool surface behavior.  There's no proof of this though.  Choose a time that fits your schedule, and if you're prone to sea sickness, go in the morning.  Choose your Maui whale watch cruise.
How close can we get to the whales?
When in or on the water, you can't approach a humpback whale within 100 yards (90 meters) without putting the whale at risk and getting a massive fine.  This is plenty close enough to watch the whales.  Keep in mind that if a whale comes up to your boat with your engine off, it's fair game.  We call this being "Mugged" because you can't start your engine and are stuck there for as long as the whale wants to keep you!  That's a truly special experience, one that happens fairly regularly in Maui waters.  Aircraft need to stay above 1000 feet (300 meters), and it's illegal to fly a drone above that elevation, so if you see a drone flying over a whale, it's illegal.  That being said, if you can keep your drone below 1000 feet and over 100 yards away, we believe it's legal.  If you see whale footage directly above a whale from a drone, it's likely been obtained while shooting in Tonga or another area that has looser restrictions.
How far do the whale watch boats go out?
We've had amazing whale watching within feet from Kihei Boat Ramp, Maalaea Harbor, and Lahaina Harbor entrances.  We've also had to cruise out for miles.  Your captain is likely taking people out all day, and each captain communicates with each other throughout the day, so they know where the most active humpback whales are.  Your Maui whale watch boat will take you as far as needed to see whales, without risking an excessively long whale watch trip.
What should I bring on a Maui whale watch tour?
Most boats have both shaded areas as well as sunny spots.  We find some of the best whale watching spots on a boat are in the sun, so bring a hat, sunblock, sea sick pills and/or ginger (if you're prone), your camera, a rope attachment from your camera and wrist (don't drop it in the water!), and a sweatshirt in case it gets cloudy, windy and chilly.
Do you have any whale photography tips?
This requires more than a few sentences, so we've enlisted the help of professional photographer Natalie Brown to give us some great whale photography tips.  She's shot hundreds of whale watches in Maui County and abroad
How do I know where the captain sees whales?
Your captain and crew have the best vantage point on the boat, as well as the most experience spotting whales, so listen for their directions.  Treat the boat like a big clock.  "12 o'clock" is straight forward towards the front (bow) of the boat.   "3 o'clock" is to your right (starboard), "6 o'clock" is at the back of the boat (stern), "9 o'clock" is to your left (port).
How can I go about HEARING the whales?
Many boats have devices that can amplify the whale song LIVE!  They drop a waterproof microphone into the water, turn off the engine, and broadcast the humpback whale song across speakers.  It's fantastic!  You may also hear the whales spout if you get close enough to them.  Another favorite way to listen to whales is by snorkeling off the coast, swimming past any waves action, and holding still and quiet on the ocean floor.  If they're within miles you can often hear their singing.  This being said, you need some strong lungs and understanding of the ocean.
Why do whales come all the way to Hawaii from Alaska every year?
Studies show that Pacific Humpback Whales are partial to tropical drinks and hula dancing.  Other than that, they love our warm protected waters for giving birth and mating.  We're convinced they'd live here year round if there were enough food, but the krill/plankton they survive on lives in colder waters.  So, each year they get their fill up north, then take the long journey down to Maui and back without any substantial food.
Off which Hawaiian Island is the best for whale watching?
It seems humpbacks like Maui waters the most, even though you can see plenty of whales across the islands.  If you look at the ocean floor, you'll see that the islands that make up Maui Country (Lanai, Molokai, Kaho'olawe, and Maui) almost make an underwater cup within a single massive underwater mountain.  Whales are better protected from open ocean predators. 
Do I have to go on a boat, or are there other ways to whale watch?
There are many ways to go whale watching in Maui.  You can go by kayak tour, helicopter, stand up paddle, from the cliffs onshore, etc… We've written a whole post on ways to go whale watch in Maui, but really the best way is by boat with an experienced captain and marine naturalists to share fascinating information.
How can I help with whale conservation?
Trilogy has been hosting Maui visitors for over 40 years, and the knowledgeable crew and spacious catamarans make for an informative and comfortable day on the water.
Quicksilver offers excellent budget whale watching from Lahaina Harbor. Hop aboard this double-decker catamaran and see Maui's humpback whales up close!